Fly Ranch brings you the opportunity to fly tandem in a
hang-glider
and experience the real sensation of flying like a bird.
To just 1 hour from the city centre, Mercedes Aerodrome (See Map of how to get there), which accommodates various flying activities. A
hang-glider
flight is a peaceful and relaxed form of flying – but it also allows for a taste of adrenaline, for those passengers who enjoy aerobatics. A video camera is mounted to the
hang-glider
throughout the flight – the instructor changes its position during the flight for different camera angles. After landing, this is edited with music, to give a souvenir of the flight.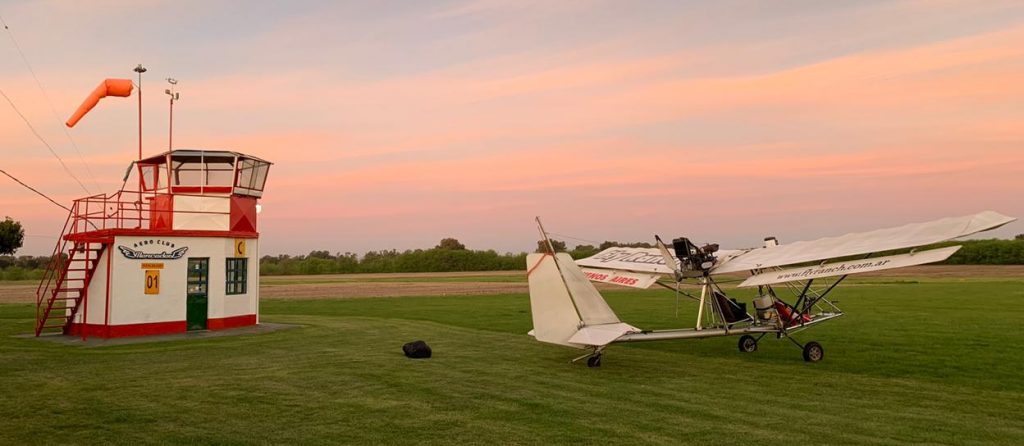 Although
hang-gliding
may be known as a sport requiring mountains, it can now be carried out in the flatlands.
Fly Ranch
uses a safe, modern and innovative system where the hang-glider is towed by an ultralight aircraft to an altitude of 700 meters. At this altitude, the
hang-glider
is released and begins to fly freely. Without doubt,
hang-gliding
is the form of flying which takes us closest to nature. The view from the flight is impressive; to see the Argentinean Pampa from a
hang-glider
is something not to be missed. Nowadays, hang-gliding is a very safe sport. The quality control of the materials and the technology of the equipment eliminate the possibility of a material fault, leaving all the responsibility to the pilot. Fly Ranch Buenos Aires uses new equipment and the latest technology implemented worldwide. The instructors have international experience and licences, having worked in Australia and the USA as instructors. Both are leading countries in this activity.
Fly Ranch
is recognized by the Argentinean Federation of Free Flight and all of its staff have authorising licences. Fly Ranch was founded in 1996 and has a history of more than 10,000 flights with passengers. In order to fly, there is no limit on age or gender – you just have to be keen to experience something unique and unforgettable. Fly Ranch not only accommodates the pilot but also the family and companions. There is a pool, volleyball court, bar, restaurant, camping, etc.
The
hang-gliders
used for the
tandem flights
are fitted with landing wheels and a special harness which allows the passenger to hang in the lower part and the instructor in the part above. This way, the passenger has the real sensation of flying solo and can steer the glider during the flight. With this system, the instructor has perfect control of the wing. The landing gear system makes both take-off and landing very safe, launching and landing on wheels. In keeping with international rules, it is obligatory to fly with a helmet and reserve parachute (provided by
Fly Ranch Buenos Aires
). For those coming to fly, there is no need to bring any special equipment or prior physical training. We recommend you bring a jacket or an extra layer of clothing, given that the temperature decreases with the increase in altitude. Fly Ranch also provides clothing and equipment for the cold. The local flying conditions are good; the wind generally doesn't affect the activity, allowing us to fly all year round.
— Price valid until 01/04/2020 —